February 15, 2022
FOR IMMEDIATE RELEASE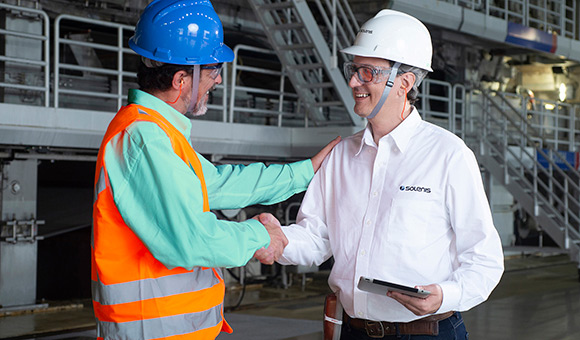 Solenis trademarked its ESG+C™ program to reflect the company's long-standing commitment to driving measurable value for customers through sustainability solutions.
WILMINGTON, Del. (USA) — Solenis, a leading global producer of specialty chemicals for water-intensive industries, has trademarked the name for its environmental, social and governance (ESG) program. Now known as ESG+C™, the updated name formalizes the company's long-standing commitment to delivering measurable value to its customers.
The addition of the "+C" represents the Solenis customer and accentuates the company's focus on delivering strategic initiatives, metrics, benchmarking and quantifiable results to help customers stay competitive and meet their sustainability goals.
"While the demand for sustainability has been evolving for some time, the last 12 to 18 months have seen an acceleration in consumer awareness," said Solenis CEO, John Panichella. "Solenis has a long history of providing ESG advisory, consultation and auditing services that emphasize the customer just as much as the other aspects of ESG."
For example, the Solenis ValueAdvantage℠ program identifies, documents and measures the value Solenis contributes to customers' businesses with chemistry, support, service and expertise. Solenis promises to deliver a documented, quantified 5% return on each customer's investment. Customers can leverage the findings of ValueAdvantage℠ in their own sustainability report to demonstrate progress to their stakeholders, such as investors, partners and employees.
To recognize these partnerships in driving sustainability, Solenis introduced a structured sustainability award program in 2020. This program recognizes specific and verifiable customer projects that have delivered meaningful, measurable results against one of five sustainability indicators: reduced water use, reduced energy use, improved carbon footprint, reduced waste and optimized raw material utilization.
Through these ESG+C™ initiatives, Solenis is helping customers measurably reduce their environmental footprint. ESG+C™ successes include:
Solenis helped one U.S. customer make changes to boiler water treatment, saving 23,131 kilowatts of energy, keeping 4,950 tons of carbon dioxide out of the atmosphere and conserving nearly 2 million gallons of water — the equivalent of 47,619 full bathtubs.
A customer in Europe implemented a Solenis dewatering solution to save 185 million gallons of water and cut 1,413 tons of carbon dioxide emissions — equal to 1,077 cars driven for an entire year.
An online cleaning program for heat exchangers at an Asian geothermal plant reduced downtime and lowered energy use by 210,000 kilowatts.
A South American biorefining operation worked with Solenis experts to create efficiencies through advanced flocculants, saving nearly 8 million gallons of water a year.
Solenis maintains details on all of its sustainability partner projects, providing customers with a valuable resource for identifying additional opportunities to positively impact their sustainability efforts.
For information about the company's commitment to sustainability, visit www.solenis.com/en/sustainability/strategic-vision.