The OnGuard 3B analyzer is a new-to-the-world monitoring device that provides the earliest detection and most accurate measurement of biofilm growth possible in industrial water systems, enabling plant operators to take corrective action before biofilm can cause heat transfer loss or equipment damage. When the 3B analyzer is used in conjunction with an OnGuard controller, automated chemical feed and control is possible, ensuring the optimal performance of the treated system and providing around the clock asset protection.
In commercial applications where the OnGuard 3B analyzer has been paired with an OnGuard controller, customers have reported the following benefits:
Improved biofilm control
Reduced energy and water costs
Improved operational performance
Reduced downtime
Optimized chemical usage
Reduced operator involvement
Improved asset protection
Reduced Legionella risks
In addition to these benefits, the 3B analyzer comes backed by a team of dedicated Solenis field representatives and applications experts.
Novel Ultrasonic Technology
The OnGuard 3B analyzer provides real-time, in-situ biofouling monitoring using a patented ultrasonic sensor certified by the Karlsruhe Institute of Technology and the Center for Biofilm Engineering at Montana State University. Ultrasonic pulses are fired at a heated target assembly and then reflected back to the sensor. A reduction in travel time indicates the presence of biofilm. Heating the target assembly allows the analyzer to not only measure biofilm thickness, but also calculate the actual loss of heat transfer efficiency expected in a heat exchanger. The analyzer differentiates between soft deposits (organic and biological fouling) and hard deposits (scaling) and automatically corrects for variations in temperature, conductivity and pressure to ensure accurate biofilm measurement.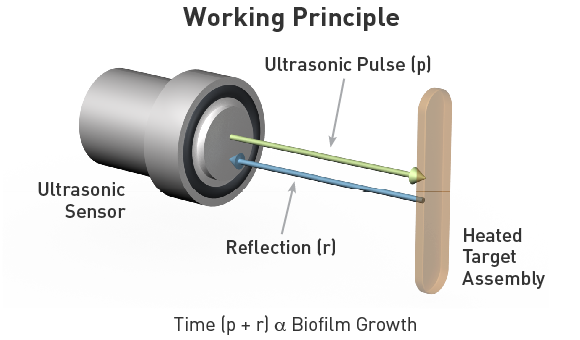 Unparalleled Detection and Measurement
In addition to detecting biofilm growth earlier than any other commercially available technology, the OnGuard 3B analyzer provides the most accurate measurement of biofilm currently possible. In fact, the measurement capabilities of the 3B analyzer were evaluated against a proven laboratory measurement technique. Results from this evaluation not only confirm the early detection capability of the analyzer but also the measurement accuracy of the device to be around 10 microns.
An Integral Component
The OnGuard 3B analyzer is part of an advanced suite of monitoring and control solutions available from Solenis that help ensure the optimal performance of customers' water systems. The 3B analyzer is also an integral component of Solenis' ClearPoint℠ biofilm detection and control program, which combines equipment, chemistry and expert service to safeguard industrial water systems against microbiological activity and biofilm.
More Information
If you would like to know more about the OnGuard 3B analyzer or would like free technical advice on controlling biofilm, ask a Solenis expert today.