March 2, 2017
FOR IMMEDIATE RELEASE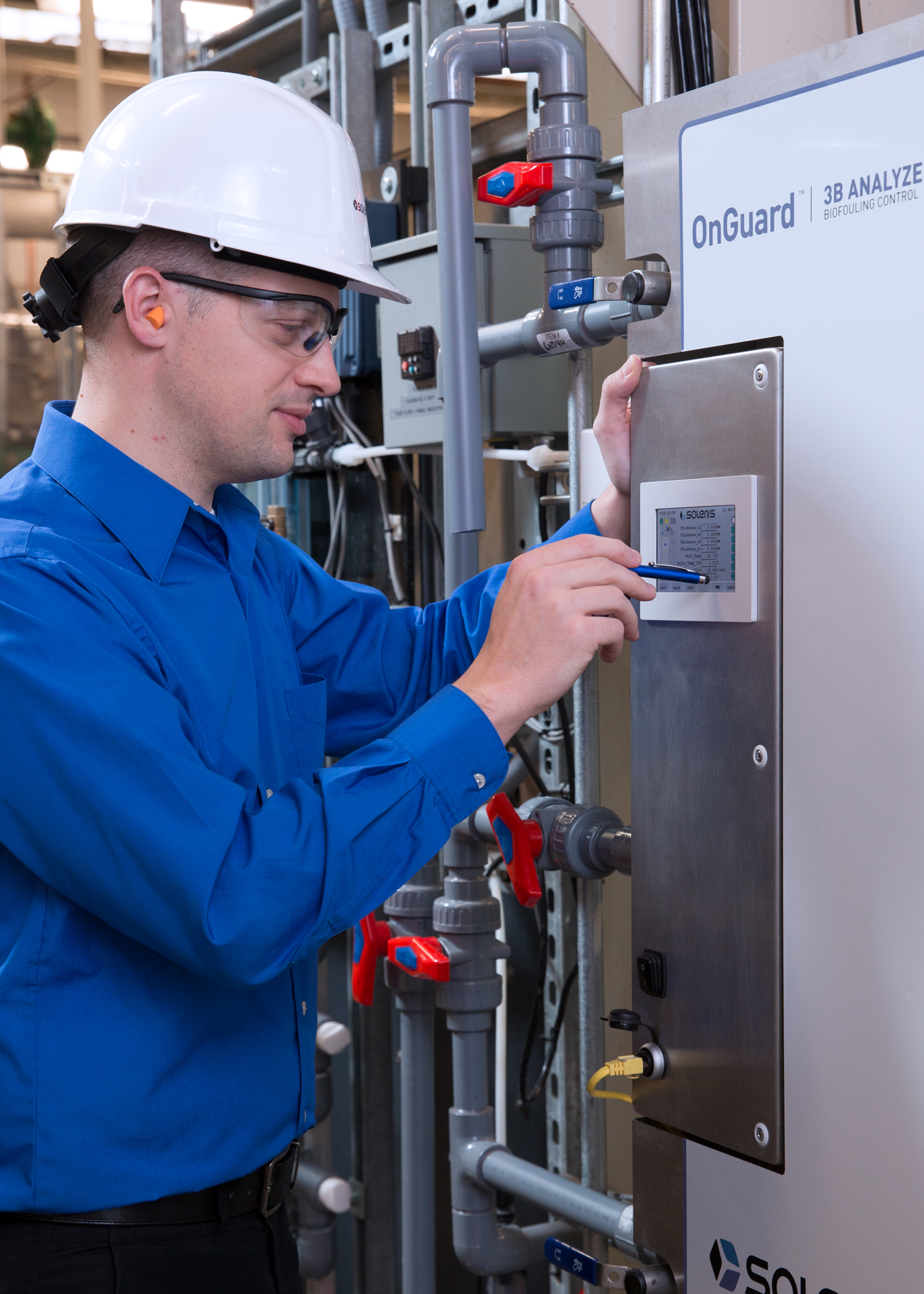 New ClearPoint<sup>SM</sup> Biofilm Detection & Control solution combines equipment, chemistry and expert services for effective biofilm treatment and removal.
Solenis' ClearPointSM Biofilm Detection & Control solution safeguards against biofilm threat to help reduce water usage and energy consumption while prolonging asset life and improving facility production
WILMINGTON, Del. (USA) — The new ClearPointSM Biofilm Detection & Control program from Solenis helps identify and prevent biofilm growth in cooling water systems. Use of the ClearPoint program can help promote improved heat transfer performance, lowered water usage and reduced corrosion and equipment damage caused by biofilm fouling.
Solenis, a leading global producer of specialty chemicals, developed this novel biofilm treatment program specifically for industrial customers with extensive and complex cooling systems.
The ClearPoint program merges equipment, chemistry and service into a single, integrated solution that detects the early onset of biofilm and intelligently doses the right combination of proprietary Solenis chemistries to help remove it.
"ClearPoint Biofilm Detection & Control approaches the problem of biofilm contamination from multiple angles - detection, biofilm removal and long-term control, said J Chris Farrell, director of global customer equipment and services. It's a comprehensive microbiological control solution that combines the earliest, most accurate detection of biofilm in cooling water systems with water-dispersible biocidal chemistries to help customers reduce water usage and energy consumption, extend equipment life and improve facility productivity."
The ClearPoint Biofilm Detection & Control program includes:
Equipment: Solenis' OnGuardTM 3B analyzer provides real-time, in-situ monitoring using an ultrasonic probe certified by the Karlsruhe Institute of Technology and the Center for Biofilm Engineering to distinguish soft organic fouling from hard scale. This exclusive Solenis technology is part of a single plug and play solution programmed to detect the earliest signs of biofilm and then release the chemistries to combat it. Designed specifically for the ClearPoint program, the OnGuard 3B analyzer joins the company's existing family of proven OnGuard monitoring and control systems installed in plants worldwide.
Chemistry: Advanced Solenis BiosperseTM microbiocides, biopenetrants and dispersants have been specially selected and optimized for biofilm removal and prevention. Solenis works with customers to analyze their cooling system chemistry and operational requirements and then selects the optimal combination of chemistries for their ClearPoint solution.
Service: Solenis experts implement a customer's ClearPoint program by analyzing existing cooling system conditions, developing system-specific monitoring thresholds and treatment chemistries, and providing real-time monitoring that can include regular condition reporting and custom dashboards.
Significant Biofilm Threat
According to Farrell, biofilm is a major threat to the performance and stability of industrial cooling systems. It's estimated that 20 percent of corrosion comes from microbial sources, leading to pitting, deposit formation and premature repair and replacement of plant equipment.
In addition, biofilm is four times more insulating than typical mineral scale, greatly reducing heat transfer efficiency and increasing operational costs: A biofilm only 20 µm thick — thinner than a piece of adhesive tape — can cause approximately seven percent loss of heat transfer efficiency.
"With the ClearPoint program, Solenis is once again fulfilling its commitment to leverage the full potential of both digital and chemical technologies to help customers in power generation, biorefining and other industries maximize the performance and lifecycle value of their cooling systems", Farrell said. "Based on our long history collaborating with customers to find solutions for persistent cooling water fouling and corrosion challenges, we believe the ClearPoint program will help plant operations stay well ahead of the issue."
ClearPoint Biofilm Detection & Control is the latest addition to Solenis' growing portfolio of water treatment programs for corrosion, scale and microbial control in cooling systems. These chemistries include organic biocides, oxidizing biocides, biopenetrants and dispersants to disrupt and destroy the insulating and corrosive biofilms.
For more information and explanatory videos visit https://solenis.com/en/solutions/water-treatment-solutions/clearpoint/.