November 4, 2020
FOR IMMEDIATE RELEASE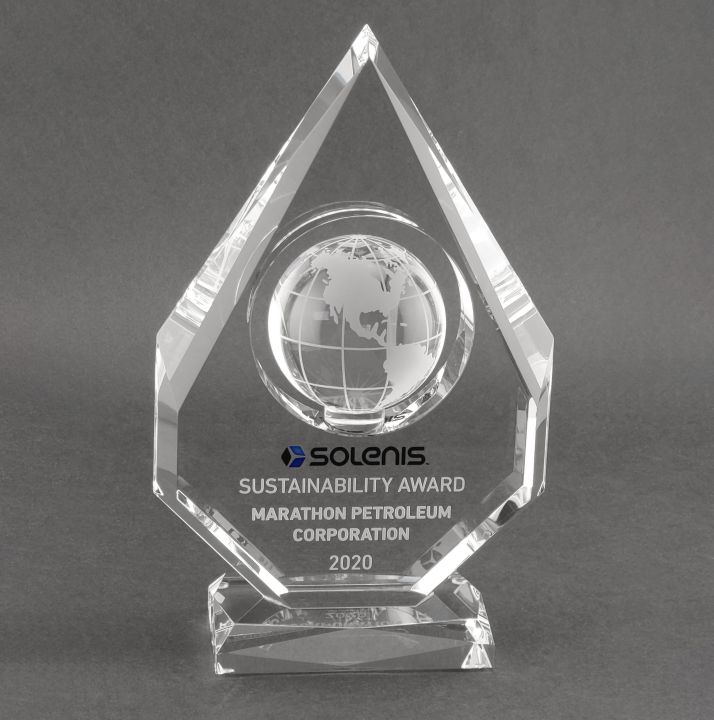 Solenis is pleased to announce its inaugural Sustainability Award for Marathon Petroleum Corporation's refinery in Catlettsburg, Kentucky.
WILMINGTON, Del. (USA) — Solenis LLC is pleased to announce the first of two winners in its inaugural Sustainability Award. Marathon Petroleum Corporation's refinery in Catlettsburg, Kentucky, is being recognized for a single project that led to total water savings of 162,060,000 gallons per year.
The project, which focused on the operation of 18 anthracite filters used as part of the boiler feedwater pretreatment process, required close collaboration between Solenis field professionals and Catlettsburg site employees. After evaluating the quality of effluent water from the clarification process and determining it carried a small load of suspended solids, the team proposed that they decrease rinse times and increase run times on the anthracite filters. This was done in stepped intervals to ensure that the equipment continued to operate at peak efficiency.
Solenis estimated that the Catlettsburg refinery could realize total water savings of 138 million gallons per year. Actual savings were significantly higher.
According to Edward J. Connors, Solenis President — Americas, Solenis has a long history of providing solutions to customers in water-intensive industries, including chemical processing, mining and mineral processing, power generation, papermaking, and oil and gas refining. "Our teams of experts work intimately with customers to address their most demanding challenges, employing a combination of innovative chemistries, application insights and real-world experience. The anthracite filter project at Catlettsburg stands as an outstanding example of how great partnerships can lead to great results."
The Solenis Sustainability Award calls attention to programs that help customers drive sustainability while improving operational efficiency and productivity. Each year, the Award will recognize specific and verifiable customer projects that have, over the previous 12 months, delivered meaningful, measurable results against one of five sustainability indicators — reduced water use, reduced energy use, improved carbon footprint, reduced waste and optimized raw material utilization.
"Global water scarcity is a growing concern," notes Connors, "so we're particularly proud to recognize a project in the first year of the Award that has such a dramatic impact on water consumption."
Marathon Petroleum Executive Vice President of Refining Ray Brooks notes that the company recognizes water as essential to the environment and critical to society. "Through our commitment to environmental stewardship, we continually evaluate opportunities to conserve water and manage our use of this shared resource in the communities where we operate," said Brooks. "This joint effort involving Solenis and our Catlettsburg site to reduce water use aligns with our broader sustainability efforts."
On November 4, Solenis will present the Sustainability Award to leaders from Marathon Petroleum Corporation. The Solenis project team will be joined by David Jellison, Vice President, IWT — North America, and Christopher Hymel, District Sales Manager.
To learn more about sustainability at Solenis, visit the company's dedicated sustainability page at: https://solenis.com/en/about-us/sustainability/.