December 8, 2020
FOR IMMEDIATE RELEASE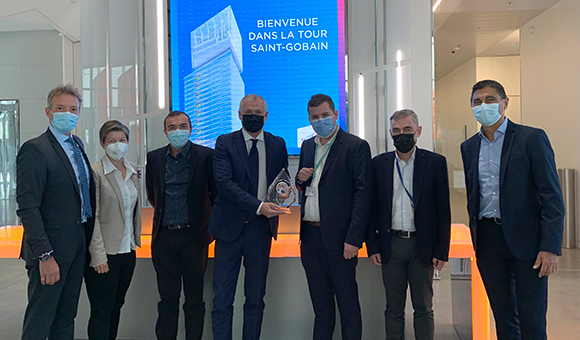 Solenis is pleased to recognize Saint-Gobain ISOVER as an inaugural winner of its 2020 Sustainability Award.
WILMINGTON, Del. (USA) – Solenis LLC is pleased to recognize Saint-Gobain ISOVER as an inaugural winner of its 2020 Sustainability Award. The manufacturer of glass insulation and fiberboard, a longtime champion of sustainability, implemented a number of projects at facilities across Europe and North America that will positively affect several key sustainability measures, such as reduced chemical use, improved worker safety and reduced carbon emissions.
One of Saint-Gobain ISOVER's key needs was a strong biocide that could control microorganisms efficiently. Solenis, along with other suppliers, was invited to bid on this phase of the work based on the strength of its stabilized chlorine biocide, a proven technology with a positive safety profile. Saint-Gobain ISOVER trialed Solenis' biocide at two plants in Finland and found that it performed well at lower utilization rates. As a result, Solenis was chosen as one of two global chemical suppliers and began supplying biocide to several more facilities in Europe and Canada.
At the same time, Solenis worked with the team at Saint-Gobain ISOVER's glass wool insulation production plant in Bergisch Gladbach, Germany, to trial a proprietary defoamer. Though they were able to maintain excellent control over foam, the Bergisch team was able to reduce their consumption of process defoamer by 50 percent. Now the program is being rolled out at Saint-Gobain ISOVER's other plants and expects to reduce defoamer use by similar amounts at each location.
According to Andreas Türk, President — Eurasia, Solenis has a long history of taking an integrated approach to solving problems for customers. "We often start in one or two facilities, addressing very specific needs in those locations. Based on the strength of our real-world experience, combined with our comprehensive portfolio of products, we are often invited to help solve additional challenges at a customer's other sites. The ongoing project work with Saint-Gobain ISOVER stands as an outstanding example of how taking a collaborative approach, especially when both sides are equally committed to sustainability, can lead to long-term partnerships — and to long-term results."
The Solenis Sustainability Award calls attention to programs that help customers drive sustainability while improving operational efficiency and productivity. Each year, the Award will recognize specific and verifiable customer projects that have, over the previous 12 months, delivered meaningful, measurable results against one of five sustainability indicators — reduced water use, reduced energy use, improved carbon footprint, reduced waste and optimized raw material utilization.
"As an organization, Saint-Gobain has committed to achieving carbon neutrality, or net-zero CO2 emissions, by no later than 2050, and all of our businesses are contributing to achieving this commitment," says Simon Cotterell, Director for Gypsum, Insulation and Mortars Global Purchasing at Saint-Gobain. "Within Saint-Gobain ISOVER, this effort includes reducing the impact of our factories, developing sustainable insulation solutions and focusing on the environment. The biocide provided by Solenis, used in a closed-loop circuit within our process, is a great example. By reducing chemical use, service visits and product shipments while conserving water and ensuring the safety of our workers, this joint effort between Solenis and Saint-Gobain ISOVER supports our Eco-Innovation policies. We appreciate that the industry recognizes us — especially Solenis — for our sustainability work."
To learn more about sustainability at Solenis, visit the company's dedicated sustainability page at solenis.com/en/sustainability/strategic-vision.