May 17, 2022
FOR IMMEDIATE RELEASE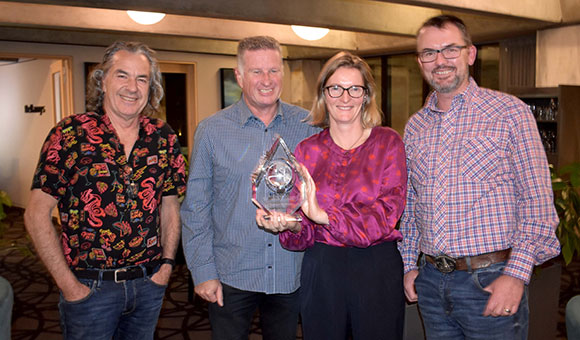 Solenis recognized Contact Energy's Wairakei geothermal power plant with a 2021 Solenis Sustainability Award for a project that reduced scale and improved power generation, saving around 57,000 tons of CO2 equivalent over one year compared to coal.
WILMINGTON, Del. (USA) — Solenis LLC, a leading global producer of specialty chemicals, is proud to announce that Contact Energy Limited is a winner of a 2021 Solenis Sustainability Award. Contact Energy's Wairakei geothermal power plant in Taupō, New Zealand, has received recognition for a project that offset carbon dioxide emissions by around 57,000 tons of CO2 equivalent (tCO2e, which includes methane) over one year, compared to coal.
Contact Energy's project was focused on returning an 8-megawatt geothermal well to full production capacity. Buildup of minerals, mostly in the channels through the rocks underground near the well (formation scale), reduced the flow of steam so severely that the well could no longer contribute to the electricity output of the plant.
Any shortfall in low-carbon geothermal electricity generation in New Zealand is made up by fossil fuels, increasing the country's carbon footprint. Abandoning the well and drilling a new one would cost up to $10 million, which was not a satisfactory option. Cleaning the well with harsh chemicals, such as hydrofluoric acid, was also unattractive because of its cost, aggressive nature, risks to operators and short-term effectiveness, especially on the silica formation scale seen at Wairakei.
Contact Energy needed a solution and partnered with Solenis field professionals and technical specialists to work on the problem. Solenis recommended a new method of cleaning the rock formation that combined advanced concepts from reservoir engineering, geology and pumping dynamics. The solution used low concentrations of chemicals, high pressure, high flow rates and carefully controlled flow to allow cleaning chemicals to penetrate the fissures in the rock formation and dissolve the scale buildup.
Trials showed it was so effective that a well's output capabilities could not only be recovered but expanded. The expansion is attributed to stimulation of the formation near the wellbore by dissolution of rock minerals, creating slightly larger pathways for flow. In addition to the method's effectiveness, the chemical portfolio developed by the Solenis team performed exceptionally well in geothermal conditions, had a significantly improved safety profile and was far more cost-effective than conventional methods.
The solution developed by Contact Energy and Solenis produced outstanding results. With the wellbore cleaned of scale, output peaked at 130 percent of the well's expected recoverable capacity, which translated to an increased power generation of around 50,000 megawatt-hours over the year following the clean.
Because this geothermal energy source is very low carbon, it has a positive effect on carbon emissions. Estimated emissions from this geothermal generation over that one year are 1,080 tCO2e, significantly less than fossil fuel alternatives. Generating the same power from coal would produce around 58,600 tCO2e, or 23,900 tCO2e from combined-cycle gas.
Contact Energy was very pleased with the outcome of the project. John Clark, Chief Generation Officer at Contact Energy, said, "Our company strategy is to lead New Zealand's decarbonization journey, and our renewable generation capacity has a critical role to play. To be able to take our existing operations and continuously improve and deliver better outcomes for the whole of New Zealand is incredibly exciting. We will continue to invest our time and resources to build a better New Zealand for future generations."
Solenis was equally pleased by the partnership. Andrew Dine, the New Zealand commercial lead at Solenis, said, "Our company values collaboration. We try to be present with advice for our customers in their water-intensive tasks or long-term strategies. Wherever these goals and sustainability intersect, we'll be there."
The Solenis Sustainability Awards program reviews customer projects completed over the previous 12 months and chooses those delivering high value and high impact. The awards recognize projects in five sustainability categories, including reduced water use, reduced energy use, improved carbon footprint, reduced waste and optimized raw material utilization. To learn more about Solenis and sustainability, visit the Solenis website at: www.solenis.com/en/sustainability/strategic-vision