May 3, 2022
FOR IMMEDIATE RELEASE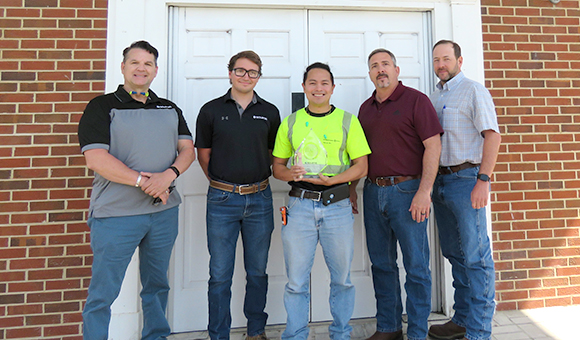 Solenis acknowledged International Paper's Pine Hill, Ala., Containerboard Mill with a 2021 Solenis Sustainability Award for water savings.
WILMINGTON, Del. (USA) — Solenis LLC, a leading global producer of specialty chemicals, is pleased to recognize International Paper's Pine Hill, Ala., Containerboard Mill as a winner of the 2021 Solenis Sustainability Award. The installation of an ultrasonic bed depth monitor and chemical automation on the plant's raw water clarifier resulted in water savings of 1,300,000 gallons annually.
The Solenis Sustainability Award recognizes specific and verifiable customer projects that have delivered meaningful, measurable results against one of five sustainability indicators — reduced water use, reduced energy use, improved carbon footprint, reduced waste and optimized raw material use. The Pine Hill project earned high marks against more than one of these indicators. Installing the new monitor helped the facility save water, but it also decreased consumption of polymer flocculant, cutting chemical transportation costs and reducing carbon dioxide emissions by 2,000 tons per year.
"It's very gratifying to be involved with projects that protect both a customer's bottom line and the planet we all inhabit," said Brent Taylor, the account owner at Solenis. "It was our focus on innovation and automation that enabled us to partner with Pine Hill to come up with a solution that addressed their unique challenge."
The design of Pine Hill's raw water clarifier requires operators to monitor the height of the sludge bed in the bottom and keep it from getting too high or too low by adjusting blowdown or polymer flocculant. At least two to three times a month, especially in dark or rainy conditions, operators were unable to see the sludge bed adequately, leading them to increase blowdown frequency and/or consume more polymer. Solenis recommended installing an ultrasonic bed depth monitor to report the height of the sludge bed to the control room. This allowed operators to know the height of the sludge bed regardless of external conditions and to receive alerts when the bed height fell out of range. Polymer dosing was also tied to this measurement for automatic adjustments via Solenis' OnGuard monitoring and control platform.
After installing the monitor, Pine Hill was able to eliminate one to two mill water upsets per month and to eliminate polymer over- and under-dose issues. By the numbers, the savings linked to the project are summarized below:
Sulfuric acid (lb active): 105,000
Caustic (lb active): 96,000
Pretreated water (gallon): 1,300,000
Natural gas (ft3): 3,200,000
Black liquor (solid lb): 440,000
CO2 emissions (tons/year): 2,000
"Our collaboration with Solenis has enabled our facility to implement a small change that has led to enormous impact," said Vern Gomonit, an area process manager at International Paper. "We often talk about the IP Way — doing the right things, in the right ways, for the right reasons, all of the time. This award demonstrates our commitment to the IP Way and how, working together, we can meet our sustainability goals."
To learn more about the Sustainability Award program at Solenis, please visit the website.