In 2020, we carried out a materiality assessment to identify and prioritize the most material topics to our stakeholders and our business. Material topics are those that have the potential to impact the long-term viability of the company and are of concern to our internal and external stakeholders. We will update our materiality assessment on an annual basis to reflect key sustainability topics that are important in our industry and the wider external environment.
Our materiality process consisted of three key phases:
Internal Stakeholder Engagement
As part of our materiality assessment process, we engaged and collaborated proactively with stakeholders across the business to gather their views on key sustainability risks and opportunities and on the issues most relevant to the business.
External Stakeholder Analysis
The external stakeholder perspectives were determined by undertaking extensive desk-based research on sector and industry-specific trends.
We used data from our analysis to rank a set of 18 sustainability topics, depicted in the materiality matrix below. The materiality matrix illustrates the relative importance of these topics in relation to their impact on our business and relevance to our external stakeholders.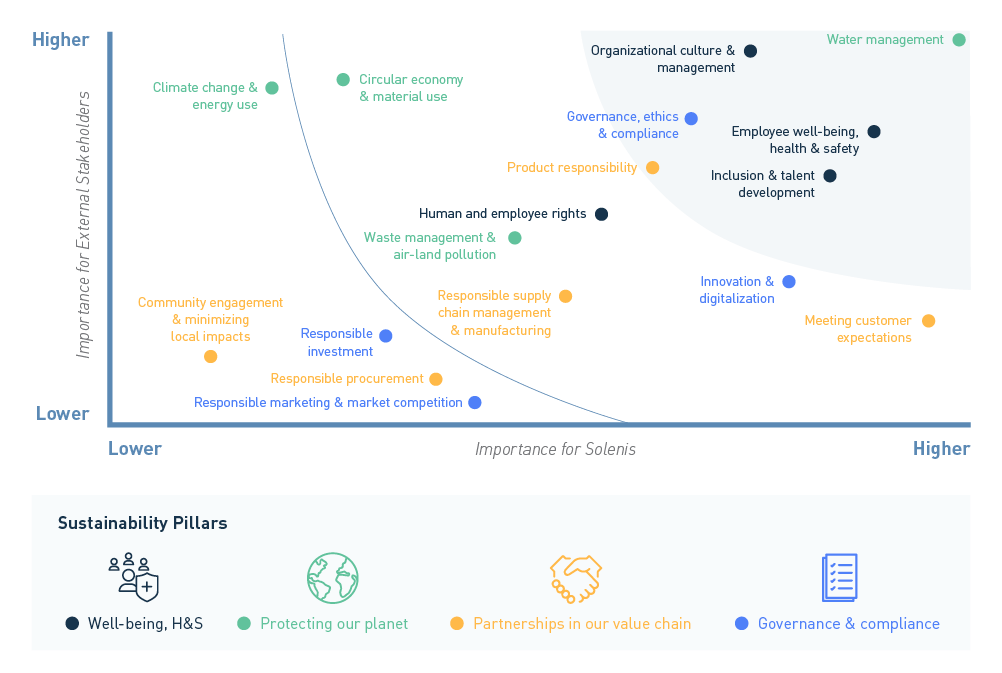 Our Sustainability Report introduces our sustainability approach and demonstrates the ongoing efforts we have undertaken to make our business more sustainable and resilient. Our strategic sustainability approach organizes our actions and commitments across four focus areas — our four pillars: Wellbeing, Health & Safety of Our People; Protecting our Planet; Partnerships in Our Value Chain; and Governance and Compliance.
Through the actions and commitments in each of these pillars, Solenis aims to create value for our stakeholders, while responding to sustainability and societal challenges, including contributing to the UN Sustainable Development Goals (SDGs). Solenis has prioritized five SDGs where we believe we can have the biggest impact through our customers, products, processes and partnerships.