In 2020, we carried out an in-depth materiality assessment; and in 2021, we updated this assessment through the use of Datamaran* software to identify and prioritize the key material topics that have the potential to impact the long-term viability of the company and are of importance to our internal and external stakeholders. These material topics help us organize our priorities, actions and commitments.
Our 2021 materiality assessment update reconfirmed our material topics which organizes our actions and commitments across our four focus areas or pillars:
Well-being Health & Safety of Our People
Protecting Our Planet
Partnerships in Our Value Chain
Responsible Business Practices
With the addition of the Sigura Water business in November 2021, we intend to complete a full materiality assessment in 2022 to understand all relevant material topics for our new, broader organization.
For more information on our strategic approach and materiality assessments, please visit pages 14-17 in our 2021 Sustainability Report.
*Trademark owned by a third party.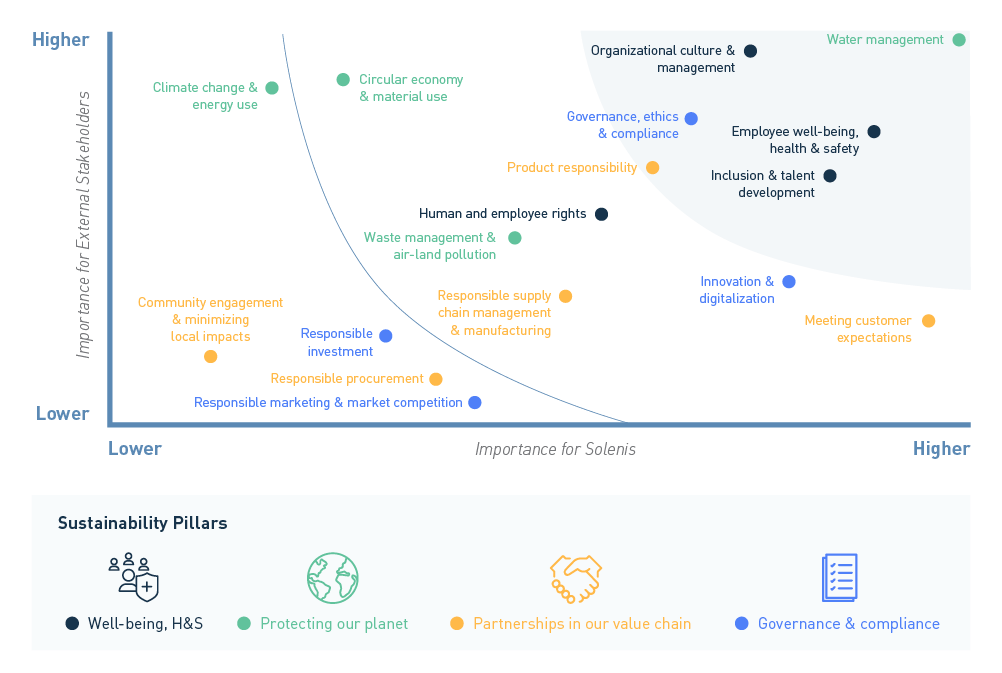 Our Strategic Framework visually depicts how our three business lenses, our four sustainability pillars, the SDGs and our material topics are interrelated. This framework helps all stakeholders to quickly understand how we approach these key areas. Meeting customer expectations is the only material topic not included in this framework because it is an overarching focus for Solenis.
Through the actions and commitments in each of these pillars, Solenis aims to create value for our stakeholders, while responding to sustainability and societal challenges, including contributing to the UN Sustainable Development Goals (SDGs). Solenis has prioritized six SDGs where we believe we can have the biggest impact through our customers, products, processes and partnerships.