November 10, 2022
FOR IMMEDIATE RELEASE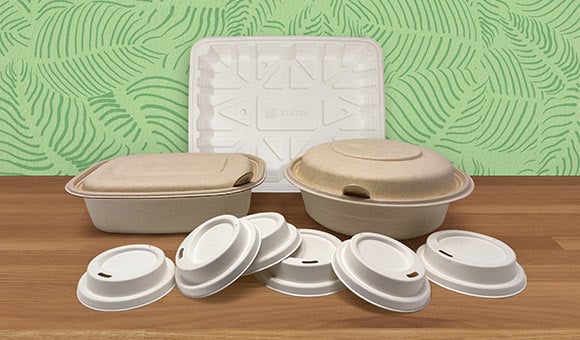 TIME selected the PFAS-free packaging line from Zume and Solenis as One of the Best Inventions of 2022. The companies teamed up to create packaging to provide brands with a sustainable solution that also holds up to the performance that consumers expect.
CAMARILLO, Calif. (November 10, 2022) - Zume, the global sustainability solutions company creating molded-fiber substitutes for single-use plastics, has been named one of TIME's Best Inventions of 2022 for its line of PFAS-free packaging developed in partnership with Solenis, a leading global producer of specialty chemicals. The annual list from TIME features 200 innovative products that are changing the way we live across the sectors of education, health, finance, social good, transportation and more. To learn more, visit: https://time.com/collection/best-inventions-2022/6228886/zume-solenis-pfas-free-packaging/
300 million tons of plastic waste is produced globally each year. Without a viable alternative, brands are left to continue using plastic or packaging made with harmful chemicals called PFAS which have been linked to health risks including cancer, liver damage, decreased fertility, asthma and thyroid disease.
Zume and Solenis teamed up to create a line of PFAS-free packaging to provide brands with a sustainable solution that also holds up the performance that consumers expect. The line from Zume and Solenis is compostable, made from repurposed natural materials like agricultural waste, and includes a comprehensive lineup of hot cup lids, bowls, plates, premium egg cartons, coffee cup lids, protein trays, and yogurt cups.
"We can't expect brands to make the switch away from plastic and foam without a viable solution that matches its performance and cost," said Alex Garden, Chairman and CEO of Zume. "It's been an honor to work with our partners at Solenis who are experts in functional additives to enable a PFAS-free future for some of the world's largest brands. We're thankful to TIME for recognizing our solution and mission to convert up to $20B worth of single-use plastic."
By combining Zume's advanced molded fiber manufacturing capabilities with our expertise in sustainable barrier chemistry, we've created a solution that can replace entire categories of single-use plastic and reduce the presence of harmful chemicals, and that's something we're deeply proud of," said Solenis CEO John Panichella. "It's an honor to be featured in TIME alongside other standout sustainability solutions."
Launched in June 2022, the PFAS-free packaging line is now available worldwide and has expanded to additional Zume partners which include some of the largest CPG brands, national and international retailers, food producers, and more.
See the full list of the 2022 Best Inventions here: time.com/best-inventions-2022.
To learn more about Zume, visit zume.com and to learn more about Solenis, visit https://www.solenis.com/en.